Useless Brat Part 3 | Bonnie Day


Jun 17, 2017


216 Images • 53:09 Min Video

Bonnie gets a lot of vibration.

In this final installment of Useless Brat Bonnie gets her ass caned hard. The lines show up instantly. Then she's fucked by Mr Pogo and given some vibrations.

After the caning she's thrown up on the Sybian. With a rope around her neck and clamps on her nipples she's vibrated. The insex tape gag on her mouth keeps her from being too loud.
Useless Brat Part 2 | Bonnie Day


May 27, 2017


226 Images • 41:25 Min Video

Bonnie's next task is to get in the cage with Syren and make her naked. She can't help talking while she does it. Such a useless slut. Her head goes through the collar on the top of the cage and her wrists are cuffed out. Her knees are also spread wide so she's totally exposed.

The clothes pins start going on Bonnie's face, but there's a string attached so everyone knows there's going to be a zipper. The first ever face zipper. When it comes off Bonnie screams. The vibrator starts buzzing on her clit and she screams even more.

Bonnie comes out of the cage and gets locked down to the box with Syren inside underneath her. Useless Bonnie missed some little hairs on her asshole. OT helps pluck them. Once she's clean her nipples get locked down to the box and she gets a caning.
Useless Brat Part 1 | Bonnie Day


May 20, 2017


192 Images • 59:12 Min Video

Bonnie has a great day with Syren and the Insex Crew

Bonnie Day and Syren De Mer make the most adorable pile of lady flesh. Cuffed together like a puzzle they couldn't untangle themselves if they wanted to, but really why would they want to? As the questions heat up they get more and more cuddly. Bonnie will just not shut up. She talks and talks and talks which requires we put a hood on. Bonnie's voice is somewhat muted, but still she's too annoying to listen to. Syren goes in the cage while Bonnie strips naked.

We start to play the ever popular "Add A Rope" game. First a torso tie. Then a neck rope. Of course a gag. Then things start to get worse. Bonnie is getting more and more uncomfortable. The ropes are getting tighter and tighter. Bonnie's bondage is getting more and more confining. Her knee goes to her neck. Then the other leg gets pulled up behind her. Then finally the table she's perched on gets pulled out from under her and she's flying freely. Her only savior is the vibrator.
Clipped | Bonnie Day | London River
Apr 19, 2017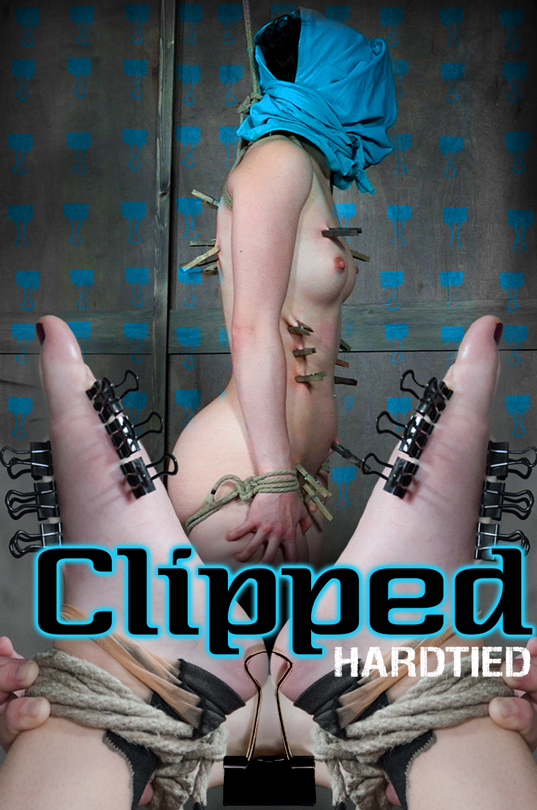 London River has got Bonnie Day in a tight squeeze and Bonnie knows it. She's terrified. Laid down on top of a table on her back, each one of her limbs tied down to a different one of its legs, she starts to writhe and whine before anything even really happens to her. As London slices her dress off, she knows whatever is coming is bad news.

London wants to squeeze Bonnie a little tighter, inch by inch. After flogging her for a minute to get her used to the kind of pain she'll be experiencing, London takes out some clothespins. One after another she clips them to Bonnie's hairy pussy until there is almost no skin able to be seen that isn't being pinched by them. Then London presses a hitachi to Bonnie's clit and sees which sensation will win out.

London liked the kind of response she got from the clothespins, so she wants to keep moving in that direction. She clamps binder clips onto Bonnie's feet, her arms, and her thighs. Each time London gives them a new spot on the body, she follows them up with some kind of torment right where they hurt Bonnie, and right where Bonnie can be hurt most. Maybe our model should learn to be less sensitive.
Bonnie Day & Dee Williams
bound in a Sexually Broken
Sixty Nine. Brutal face and
pussy fucking! | Dee Williams | Bonnie Day | Matt Williams | Sergeant Miles


Mar 31, 2017


84 Images • 10:02 Min Video

Bonnie Day & Dee Williams bound in a Sexually Broken Sixty Nine. Brutal face and pussy fucking!

Today we have two girls that can take the dick, Bonnie Day and Dee Williams. These girls are the best of the best at handling deep hard facefucking, and some of the most extreme fucking there is.

Well this is something you don't see every day, or ever, really. Girls bound for rough sex and face fucking in a Sixty Nine. The Boys can fuck a pussy and not even move to fuck a throat. Both girls are completely helpless and getting dick from both directions. It doesn't take long to get both girl dick drunk, and sub spacey. We have squirting, brutal orgasms, extreme face fucking over and over and over. Like I said these girls can take it, so the Boys brought it!